Shopping Cart
Your Cart is Empty
There was an error with PayPal
Click here to try again
Thank you for your business!
You should be receiving an order confirmation from Paypal shortly.
Exit Shopping Cart
zenteq magnetic & titanium therapy : natures gifts
3 YEAR WARRANTY*
FREE HOME DELIVERY
| | |
| --- | --- |
| Posted on May 14, 2014 at 5:25 AM | |
by Tom Philpott – Mother Jones
Soybeans are the second-largest US crop after corn, covering about a quarter of American farmland. The US grows more soybeans than any other country except Brazil. According to the US Department of Agriculture, more than 90 percent of the soybeans churned out on US farms each year are genetically engineered to withstand herbicides, nearly all of them involving one called Roundup. Organic production, by contrast, is marginal—it accounts for less than 1 percent of total American acreage devoted to soy. (The remaining 9 percent or so of soybeans are conventionally grown, but not genetically modified.)
We don't eat much of these lime-green legumes directly, but that doesn't mean we're not exposed to them. After harvest, the great bulk of soybeans are crushed and divided into two parts: meal, which mainly goes into feed for animals that become our meat, and fat, most of which ends up being used as cooking oil or in food products. According to the US Soy Board, soy accounts for 61 percent of American's vegetable oil consumption.
Given soy's centrality to our food and agriculture systems, the findings of a new study published in the peer-reviewed journal Food Chemistry are worth pondering. The authors found that Monsanto's ubiquitous Roundup Ready soybeans, engineered to withstand its own blockbuster herbicide, contain more herbicide residues than their non-GMO counterparts. The team also found that the GM beans are nutritionally inferior.
In the study, the researchers looked at samples of three kinds of soybeans grown in Iowa: (1) those grown from GM herbicide-tolerant seeds; (2) those grown from non-GM seeds but in a conventional, agrichemical-based farming regime; and (3) organic soybeans, i.e., non-GM and grown without agrichemicals.
They found residues of glyphosate (the active ingredient in Roundup) and aminomethylphosphonic acid, or AMPA, the compound glyphosate breaks down into as it decays, on all 10 of the GM samples—and in none of the non-GM and organic ones.
The researchers found residue levels hovering above a level Monsanto itself has characterized as "extreme." The GMO soy had total residues averaging 11.9 parts per million, with a maximum reading of 20.1 ppm; the average is well below the Environmental Protection Agency's limit of 20 ppm, a limit shared by the European Union. Yet as the authors note, back in 1999, Monsanto itself reported that the maximum recorded reading of glyphosate residue found on Roundup Ready soy was 5.6 ppm—a level it called "extreme" and "far higher than those typically found." So, the researchers found residue levels well below the EPA's limit, but hovering above a level Monsanto itself has characterized as "extreme." What to make of it? 
As the authors note, the science around the effects of glyphosate at relatively low levels is controversial. By setting the residue limit at 20 parts per million, US and European regulators are endorsing a no-harm view. But some independent research, including a 2012 study (my account here) by University of Pittsburgh scientist Rick Relyea, found that Roundup in water at 3 ppm induced morphological changes in frogs. And in a 2012 paper, German researchers subjected various bacterial strains typically found in the guts of poultry to glyphosate at levels of 5 ppm and lower and found that it tended to harm beneficial bacteria like Lactobacillus, while pathogens like Salmonella entritidi tended to be "highly resistant" to it. The results suggest that glyphosate can shift the balance of the gut microbiota—hardly comforting, given the surge in research finding that subtle changes to the bacteria in our bodies have a huge impact on our health.
The study also found small but statistically significant differences in the nutritional quality of the soybean types: The organic soybeans had slightly higher protein levels than the other two, and lower levels of omega-6 fatty acids. Omega-3 fatty acids showed no significant difference. Both fats are essential in human diets, but research suggests that US eaters tend to consume a higher ratio of omega-6 acids to omega-3 acids than is healthy.
It's worth noting that food isn't glyphosate's only pathway to our bodies. In a 2011 study, researchers for the US Geological Survey "frequently detected" glyphosate in surface waters, rain, and air in the Mississippi River basin. "The consistent occurrence of glyphosate in streams and air indicates its transport from its point of use into the broader environment," USGS stated in a press release, adding that "we know very little about its long term effects to the environment."
Charles Benbrook, a Washington State University researcher who documented the rise in glyphosate use that has accompanied Roundup Ready crops, told me that "human dietary exposure to glyphosate is now probably the highest ever for any pesticide used in the US." When you consider the additional doses we get through water and air, the chemical stands "in a class by itself" in terms of human exposure. "I sure hope EPA is right in its evaluation of the toxicity of glyphosate," he said.
Thus a plague of herbicide-resistant weeds and a corresponding spike in herbicide use may not be the only black marks against Monsanto's blockbuster Roundup Ready crops
undergroundhealth.com/monsanto-gmo-soy-scarier
| | |
| --- | --- |
| Posted on May 6, 2014 at 6:50 PM | |
Take a look at this graphic to see how drinking a fizzy drink  affects your health, from the moment it enters your mouth to the time it is absorbed into the rest of your body, leaving a trail of destruction in its wake.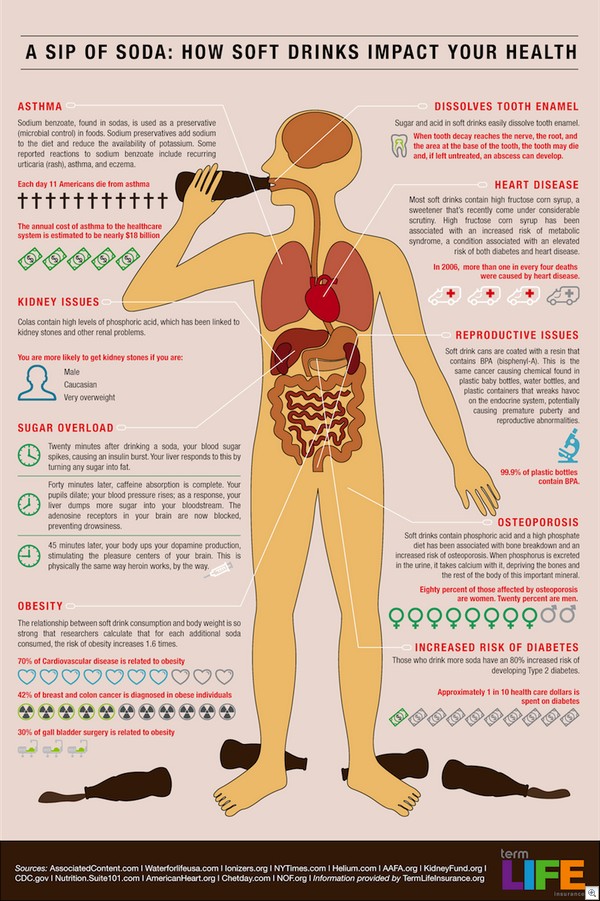 With thanks to: http://bitsandpieces.us/2012/07/02/a-sip-of-soda/

| | |
| --- | --- |
| Posted on April 16, 2014 at 3:50 AM | |
Keywords: ADD, addictive, alcohol, alzheimer's, Aspartame, cancer, class II, coma, depression, diabetes, headaches, Lupus, memory loss, methanol, MS, msg, parkinsons, scheduled drug, seizure, vision loss, wood alcoholWhat? That can't be right, you are likely thinking.
It is.
The methanol in aspartame affects the dopamine system of the brain causing addiction. Methanol, or wood alcohol, is classified as a severe metabolic poison.
Aspartame is a dipeptide molecule produced by joining phenylalanine and aspartic acid. Aspartame itself does not occur naturally but is a manufactured substance. When aspartame is consumed, it is completely broken down by the enzymes in the digestive system into the two amino acids and a type of alcohol called methanol.
Methanol is a schedule II Narcotic.
What that means:
Schedule II substances have high abuse potential and severe psychological and/or physical dependence liability. Examples of schedule II substances include narcotics, amphetamines, and barbiturates. Prescriptions for schedule II substances can never be ordered with refills and must be filled within 7 days of the date originally written.
Yet you can buy diet soda and are encouraged to drink it because it has been marketed as a health product.
According to independent doctors and researchers, aspartame can cause a range of symptoms including but not limited to:
Headaches
Memory Loss
Vision Loss
Depression
Seizures
Coma
Cancer
Worse, it cam mimic symptoms of diseases like MS, Lupus, ADD, Diabetes, Alzheimer's and Parkinson's.
It can be dangerous to take with medications, has reactive properties when combined with MSG (mono sodium glutamate) which is found in tons of packaged foods, and will induce cravings for carbohydrates which often leads to weight gain.
So much for the myths of diet and or healthy!
*Best Advice: Never touch a food with aspartame in it again.
*Alternate Advice: If you don't feel ready to give up diet drinks or foods but are having any of these symptoms try a 60-day aspartame free test and see how much your health improves.
 By Sarah Barendse.
Thanks Sarah! Barbra xx
References:
http://www.wnho.net/aspartame_death_tax.htm
http://216.218.243.84/~aspartam/page_a13.html
http://medical.tpub.com/14295/css/14295_263.htm
http://andevidencelibrary.com/topic.cfm?cat=4089&auth=1
http://www.mpwhi.com/what_is_aspartame-2up.pdf
http://www.sciencedirect.com/science/article/pii/S1043661805001404
| | |
| --- | --- |
| Posted on March 17, 2014 at 4:00 AM | |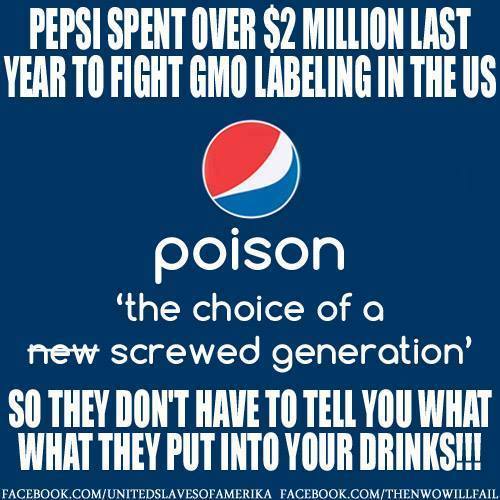 | | |
| --- | --- |
| Posted on March 17, 2014 at 3:30 AM | |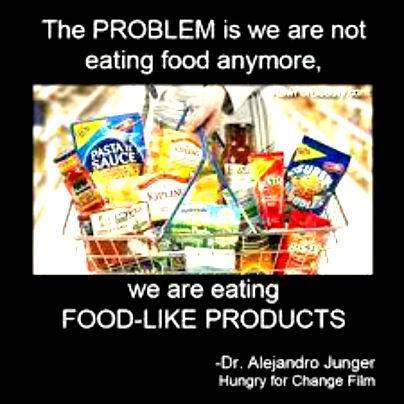 Thanks to Alternative world networks for this photo.
/