Shopping Cart
Your Cart is Empty
There was an error with PayPal
Click here to try again
Thank you for your business!
You should be receiving an order confirmation from Paypal shortly.
Exit Shopping Cart
zenteq magnetic & titanium therapy : natures gifts
3 YEAR WARRANTY*
FREE HOME DELIVERY
| | |
| --- | --- |
| Posted on March 30, 2015 at 11:40 PM | |
 About the author
Sheryl is a kinesiologist, nutritionist and holistic practitioner.
As with many natural treatments magnet therapy has a long list of skeptics ready to jump on its back and push it in to the realm of pure mumbo jumbo. But the truth is that magnet therapy has a growing number of people who not only swear that it works, but that rely on it to live fuller, pain free lives.
 The concept of using magnets for health reasons is not a new one. Greek philosopher Aristotle discussed the healing property of magnets in 300 BC, but the earliest recorded mention of magnets within medicine came in around 2000BC. The Yellow Emperor`s Classic of Internal Medicine is one of the earliest medical books ever written. Within its pages there are mentions of many sophisticated and modern day therapies including the use of magnets to control pain.
The scientific theory behind magnet therapy did not appear until the late 1700s, when it was found that the body produces its own magnetic impulses. Many studies around this time led to the belief that placing magnets on an affected area of the body will help align these impulses and therefore ease any pain. With Hospitals now reporting that magnets have a pain relief success rate of around 80%, it is looking like these early studies were on the right track.
Magnets and head aches
Many of the thousands of people who suffer from regular headaches and migraines swear by the use of magnets rather than using any medicinal treatment. It is thought to be such an effective method because magnets help increase blood flow around the body. More blood flow means that more oxygen is able to reach the affected area, which will in turn help relieve pain and reduce any inflammation. This is also great news for people with tendonitis as well as for arthritis sufferers, many of whom live in constant pain.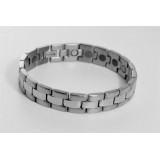 Above : Maverick , full rare earth magnetic band.
Magnets and broken bones
While the success of using magnets to ease pain is seen by many people as nothing more than a placebo, results of studies printed in the Journal of Electro and Magnetobiology may help change their minds. The study found that using magnets not only increased blood flow and eased pain, but they also aid in healing bones, regenerating spinal disk tissue and may even help prevent the violent allergic reaction in the lungs that is characteristic of bronchial asthma. While these results have seen a sharp rise in the use of magnets within hospitals to help heal stubborn fractures and to treat tendonitis, in India and China the results came as no surprise as they have used the method for centuries.
http/www.apostle.org http/www.healingwithmagnets.com  http/www.healingtherapies.info
About the author: 
Sheryl Walters is a kinesiologist, nutritionist and holistic practitioner.
Her website www.younglivingguide.com provides the latest research on preventing disease, looking naturally gorgeous, and feeling emotionally and physically fabulous. You can also find some of the most powerful super foods on the planet including raw chocolate, purple corn, and many others.
/